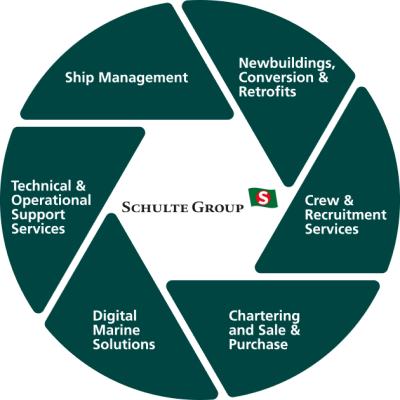 The main business areas of the Schulte Group are ship owning, which has the longest tradition in the Schulte family and is the core business of Bernhard Schulte, and ship management operated through Bernhard Schulte Shipmanagement (BSM).
The Schulte Group additionally controls several specialised maritime services companies, such as Mariapps Marine Solutions, a leading maritime software development company, and Schulte Marine Concept, the newbuilding supervision arm of the Group. Other services provided by member companies of the Schulte Group are crew and guest catering, inspection services, port agency services, and many more.

Bernhard Schulte, the ship owning business of the Schulte Group, controls a modern and diversified fleet of more than 90 fully or partly owned vessels, including container vessels, bulk carriers, tankers, gas carriers and offshore vessels.

BS Offshore is the dedicated ship owning unit of Bernhard Schulte for all offshore activities.
Who We Are
The Schulte Group is a family-owned ship owner and ship manager well-established in the maritime industry with over 135 years of experience. The Group employs over 20,000 seafarers and 3000 people on shore, owns and co-owns over 90 vessels and manages about 650 ships.
The Schulte Group has a global network of over 30 offices in major shipping locations and its business activities include ship owning, ship management, maritime software development, newbuilding supervision, and other maritime services.
The Schulte Group and its shareholders strive to maintain financial stability and independence. Preserving its strong reputation, keeping commitments and maintaining good relationships with business partners are of fundamental importance to the Schulte Group.